The detailed symposium schedule can be found below. If you would prefer an enlarged version, please click here.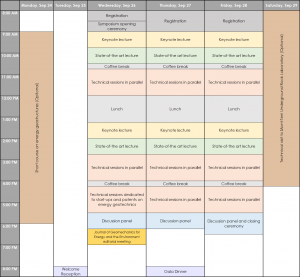 Technical Program:
The technical program consists of six keynote lectures, six state-of-the-art lectures and a series of technical sessions which will be given in parallel. Further, there will be technical sessions dedicated to the latest patents and budding start-ups. At the end of each day a discussion panel will be held. This will allow participants to interact with the speakers and one another in order develop a more complete understanding of the day's material.
Mont-Terri Visit:
Just after the symposium (on the 29th of September 2018) there will be a visit to the Mont-Terri Rock Laboratory, located in the canton of Jura, 300 m underground. Numerous experiments are carried out here on the Opalinus Clay, which is, among other things, a potential host rock for future nuclear waste storage activities in Switzerland. For more information, their website can be found here.